Joe Hart Signing Confirmed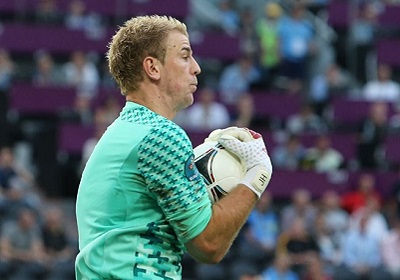 Spurs have made another early move as they tinker with their squad ahead of the 2020/21 season with confirmation of the signing of Joe Hart. News began to develop on Monday morning with reports that the former England goalkeeper was undergoing a medical and, after a small delay, the deal was sealed around Tuesday lunchtime.
Hart signs on a free transfer on a two year deal but what will his role be at the club?
No Change?
With Michel Vorm released, there was a need for further back up between the posts but few could have guessed that Joe Hart would be the man to step in. With reports suggesting that Hugo Lloris is about to sign a new contract and no indication that Paolo Gazzaniga will be leaving, England's former first choice may well come in at number three in the Spurs' pecking order.
While there was some mixed reaction to the developing story on social media, the majority of Spurs fans were positive about the move. Their words may have been different had Hart come in as first choice but, as an experienced and home grown back up, he ticks a number of boxes.
With Tottenham potentially facing a lot of football next season, including an early set of Europa League games, the burden in knockout competitions is now set to be shared between Hart and Gazzaniga. And, if Lloris suffers another long term injury as he did last season, Jose Mourinho now has an experienced alternative to Paolo if he decides to bypass the Argentinian.
More to Give
Speaking to the press after the news had been confirmed, Hart said that he was just happy to be making a new start and that he would help the club any way that he could. That help might be on or off the pitch and we'll see how that develops.
Our new stopper also feels that he has more to give: At the age of 33 he certainly isn't way past his prime in goalkeeping terms but an alarming loss of form stands in the way of any promotion through the ranks. It will be fascinating to see how this one develops and we welcome Joe to the club.
Loan for Skipp
While Joe Hart arrives, Oliver Skipp is waving a temporary goodbye to the club as he joins up with Norwich City on a season long loan. The 19 year old has made 23 appearances for Spurs over two seasons but has yet to take on any form of loan and this will hopefully help him to gain valuable first team experience with the Canaries.
For once, we're doing some early deals but will there be more to come in the days and weeks ahead or is Jose close to forming his own squad ahead of the new campaign?